No Lord of the Rings party is complete without the Fellowship leaf pin. For those who are not die-hard LOTR fans, this is the pin that all eight of Frodo's companions wear on the quest to destroy THE ring.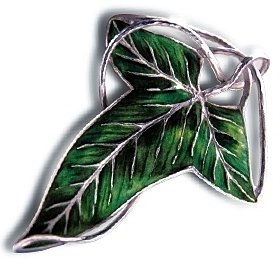 I hated the idea of paying over $3 per guest on the pins alone, so I made them instead. It came out to be approximately 30¢ per pin to make.
---
Materials
Green Polymer Clay

Clay Satin Glaze

Hot Glue Gun and Sticks

Silver Paint

Needle or Toothpick

Paint Brush

Oven

Brooch Pin

2 1/2 inch Heart Cookie Cutter

1 1/2 cm Circle Cookie Cutter

Knife (something that cuts straight – razor blade, old credit card, old CD

)


---
Step 1: Roll green clay out flat. About 1/4 inch thick. I used my clay press set on 7.
Step 2: Cut two hearts out and discard trimmings.
Step 3: Cut both hearts in half. Discard one of the halves. (You only need three halves)
Step 4: Round the edge of one of the halves.
Step 5: Using the point of the heart cookie cutter, place it on the halved heart 3 cm from the bottom and discard the inner part. Do this to two pieces. (The remaining portion should look like an arrow tip.)
Step 6: Place the "arrow tip" at the rounded part of the remaining half. See image below. Leave one of the tips pointing up.
Step 7: Cut off the part that is pointing up.
Step 8: Repeat Step 6 and 7 for the other side.
Step 9: Blend the three pieces together. This will create your leaf.
Step 10: Carefully flip leaf over and blend pieces together on this side. This will make the piece more secure and will lessen the likelihood of it breaking.
Step 11: Flip back to the front. Using the circle cutter, cut a half circle in the bottom of the leaf.
Step 12: Using a needle/toothpick, draw middle veins down the three pieces of the leaf.
Step 13: Use a needle to create the smaller veins of the leaf. (I used the metal brush tool in the set here.)
Step 14: Create slight curves in the leaf to give a more realistic appearance.
Step 15: Bake clay according to instructions on package.
Step 16: After the clay has cooled, paint edges with silver paint. Let dry.
Step 17: Cover top of leaf with clay satin glaze. Let dry.
Step 18: Flip to back, glue brooch pin to the back of the leaf using hot glue.
Here is the finished product:
Be inspired!